Overview#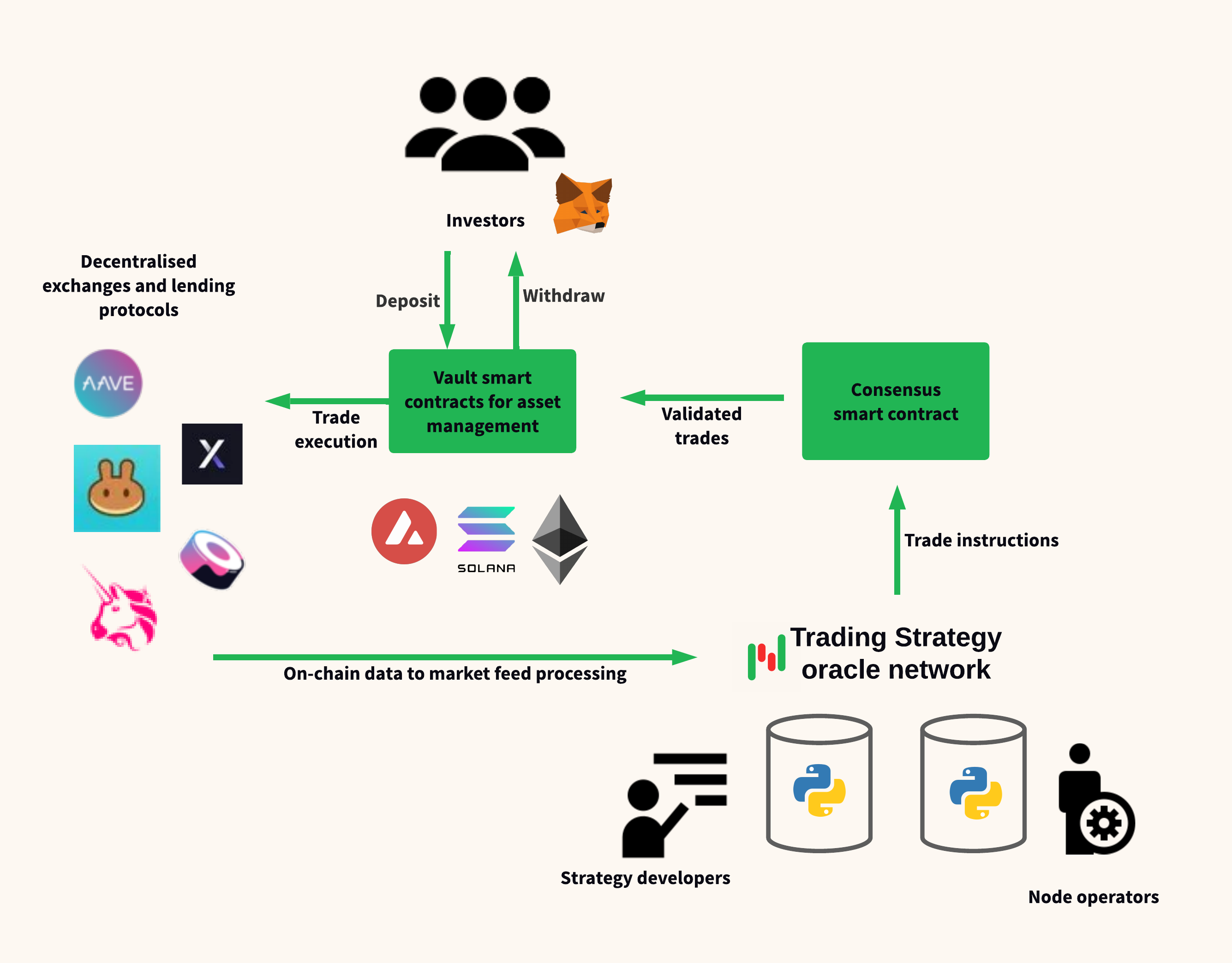 Algorithmic trading strategies can be deployed as autonomous agents running on smart contracts and Trading Strategy oracle network. Strategies then trade on decentralised exchanges.
After deployed, investors can invest in and withdraw from the strategies in real-time, using their non-custodial cryptocurrency wallet.
As strategies run on-chain, any third party can verify the honest execution of the strategies and fee distribution.
Protocol stakeholders#
Investors#
Investors can deposit and withdraw into the different strategies based on their risk profile
Strategies are listed based on their performance characters like assets traded, maximum drawdown and the strategy asset under management cap.

Investors can choose a strategy suitable for their available asseta and risk apetite.

Investors deposit and withdraw into a strategy in real-time, using a stablecoin like USDC.

All strategies are non-custodial based on vault smart contracts. Investors can transact with the vault without any middleman. Each strategy has its own isolated vault for isolating any risk.
Strategy developers#
Strategy developers are quantitative finance experts who have deep inside in defi and decentralised exchange markets.
Strategy developers program new algorithmic trading strategies.

Strategy developers are rewarded for the strategy creation e.g. with profit sharing fees from the strategy profits.

In Trading Strategy protocol, strategy developers do not need to possess low-level blockchain or Solidity programming skills. Instead, strategies are written in high-level Python scripts.
Node operators#
Node operators are the responsible for running oracles that make the Trading Strategy protocol possible.
Node operators are sufficiently decentralised entities, ensuring that the oracle network stays honest.

Node operators' core skillset is maintaining high-availability servers that process market data feeds

Node operators are paid for the running the oracle nodes as a staking rewards that come from the profit sharing of the strategies
Components of the protocol#